Lost or Stolen Debit Card
If you ATM/Debit card is lost or stolen, please notify us immediately by calling your local branch office during business hours. If after business hours, please call 1-800-472-3272.
We are pleased to announce that all newly issued debit cards will include the latest chip technology which provides an added layer of security, providing greater protection against fraud.
How it Works
Merchants, such as a grocery store, may ask you to insert your card into the terminal or they may ask you to swipe the magnetic stripe.
If you're asked to insert the card, look for a slot on the bottom-front of the terminal and insert your card face up with the chip first.
Leave your card in the terminal until the transaction is complete.
The terminal will prompt you to sign or enter a PIN to validate your identity.
Take your card when prompted and don't leave it behind.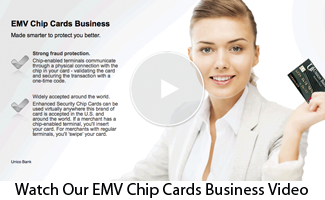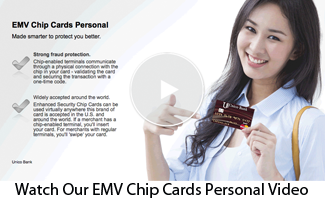 Due to excessive fraudulent activity, effective June 24, 2011, the following merchants will be blocked for signature based and conducted in the following states of New York, Maryland, Florida, California, New Jersey and Pennsylvania when using your debit card.
Blocked Merchant Categories Include the Following
| | |
| --- | --- |
| 5310 | Discount Stores |
| 5411 | Grocery Stores and Supermarkets |
| 5311 | Department Stores |
| 5912 | Drug Stores and Pharmacies |
| 5691 | Men's and Women's Clothing Stores |
| 5621 | Women's Ready to Wear Stores |
| 5499 | Convenience Stores |
*Customers using their card for PIN based transactions should not have any problems in the above mentioned states.*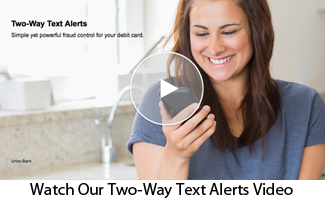 Unico Bank offers real-time 24 hour peace of mind with our state of the art fraud detection services. EnFact monitors and scores every debit card transaction and alerts you if a potentially fraudulent transaction occurs. You may be contacted by one of our skilled EnFact analysts or contacted by an automated voice response unit. Keep in mind we will never ask you to provide us with your account number or debit card number, we already have that information on file. We will simply provide you with transaction details and ask you if you conducted the transaction, yes or no. We also offer two-way text alerts as well. Below is a short video that explains the text alerts, ask us how to sign up!