Unico Bank's Internet Banking allows you to bank anywhere, anytime, right from your mobile device or home computer.
Features:
Check Account Balances
View Transaction History
Transfer Funds
Make a Loan Payment from your Account
Setup Account Alerts
Add a Stop Payment
Change your Address or Phone Number
Order Checks
Pay Bills – CheckFree Bill Pay
View, Print and Save Your Statements – Using eStatments
Notifi Online Banking Alerts
GET REAL TIME TEXT OR EMAIL NOTIFICATIONS FROM ONLINE BANKING.
Custom alerts in our updated online banking alerts tool which allow you to enjoy peace of mind wherever you go. You can:
Monitor account balances and activity
Get deposit and withdrawal notifications
Control security alerts
And much more
Stay on top of your money 24/7.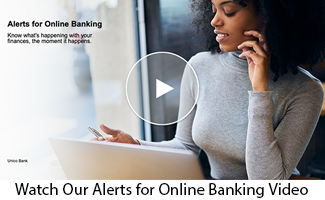 Paying bills online make life simple.  Just select the bill you want to pay, enter the amount and due date and your payment will be on its way. To enroll simply login to your internet banking and send a secure message requesting the Bill Pay feature.
Features include:
Manage all of your bills from one location.
There is no need to log in and remember passwords from multiple business websites.
Schedule recurring payments.
Receive your bills in electronic format directly to your bill pay account.
View your Bill Pay history for each payee.
Check for pending payments and setup reminders.
Save on postage.